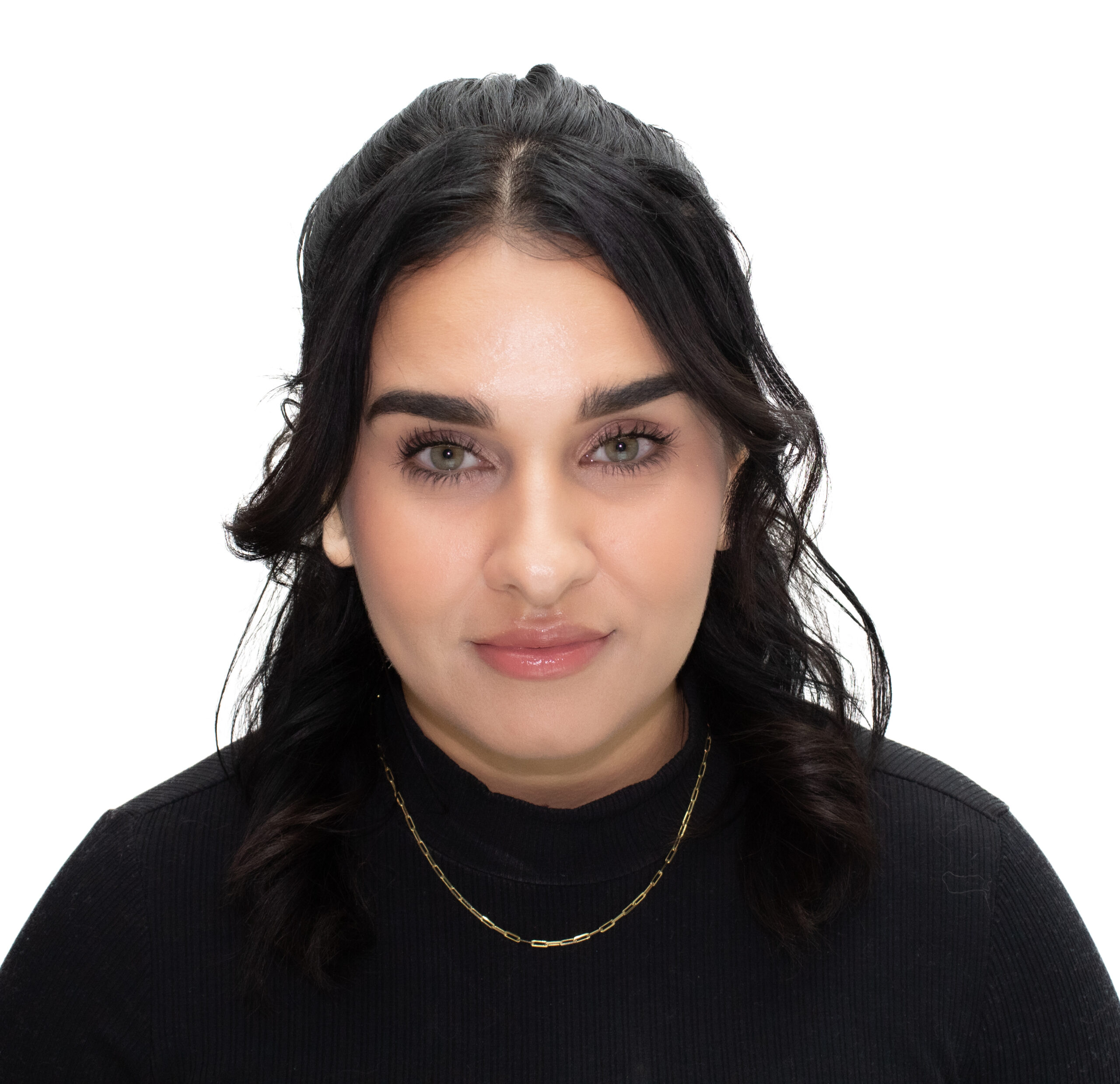 Fatema discovered her true calling in the world of hair and makeup. After completing her undergraduate studies in Psychology at Carleton University, she found herself still searching for a fulfilling passion. It was the unwavering support and recognition of her family that led her to pursue her talents in hair and makeup, ultimately enrolling in the renowned Versailles Academy.
In 2022, Fatema successfully completed the Hairstyling, Barbering, and Professional Makeup Artistry programs at Versailles Academy, solidifying her foundation in the industry.
In her continuous pursuit of knowledge and growth, Fatema actively engages in online courses offered by "Behind the Chair" and "Blonde Chronicles" websites. These platforms allow her to stay updated with the latest trends, techniques, and industry insights, ensuring she delivers the highest quality of service to her clients.
What drives Fatema's love for hairstyling is her genuine desire to bring joy to her clients. Putting a smile on their faces is her ultimate reward, as she understands the impact of a great hairstyle on someone's overall confidence and well-being. With every client, she strives to create a personalized experience that not only enhances their physical appearance but also leaves them feeling empowered and beautiful.
If Fatema possessed hair superpowers, she would use her abilities to magically grow everyone's hair long and thick. Her passion for her work is evident in her dedication to experimenting with new balayage and highlight techniques. She enjoys pushing boundaries and exploring new trends to create unique and customized looks for her clients.
When it comes to styling the hair of celebrities, Fatema's dream assignment would be to work with none other than JLO. Admiring JLO's impeccable hair, she would relish the opportunity to create captivating looks for the icon.
Outside of her professional life, Fatema finds solace in spending time with her loving family. Her husband, son, and furry companion bring her immense joy and serve as a source of inspiration and support.
If given the opportunity to travel, Fatema's top destination would be Thailand. The rich cultural heritage, breathtaking landscapes, and vibrant atmosphere of the country captivate her imagination, making it a dream destination to explore and embrace new experiences.
"Every strand of hair is an opportunity for transformation. With each client, my goal is to create not just a hairstyle, but a moment of joy and confidence that leaves a lasting impression. I believe in the power of hair to empower and uplift, and it's an honor to be a part of my clients' transformative journeys."
Hair Republic Byward
7 Clarence St.
Ottawa ON K1N 5P9
613.695.0785
HOURS OF OPERATION
Tuesday - Friday
11am - 7pm
Saturday
9am - 6pm
Closed Sunday and Monday.
Hair Republic Beauty Lounge
1093-1095 Bank St.
Ottawa ON K1S 3X4
613.695.0789
HOURS OF OPERATION
Monday - Friday
9am - 8pm
Saturday
9am - 6pm
Sunday
10am - 6pm
OPEN Sunday and Monday.
Hair Republic Rideau

Located on the 2nd floor of HBC

73 Rideau Street,

Ottawa, Ontario, K1N 5W8

613.695.0782

HOURS OF OPERATION

Tuesday - Saturday
10am - 7pm
Closed Sunday and Monday.
Hair Republic Toronto
(coming soon!)